County Sythetic Grass Installation Rebate Programs
NMWD is offering residential customers cash in return for reducing the amount of lawn area in their landscapes by replacing it with synthetic turf. The District will pay you $100 per 100 square feet of lawn area you remove. The cash rebate is limited to $1,000 for single family dwellings, $200 for townhouses or condominiums, and $100 for apartments.
EBMUD offers landscape rebates to single-family homeowners who convert their high-water-use gardens into water-conserving landscapes. This program educates homeowners in the water saving strategies possible in the garden and encourages the use of plants appropriate to our summer-dry climate and irrigation efficiency.
Santa Clara County residents can receive up to $1,000* and commercial, industrial, and institutional properties can receive up to $10,000* by replacing thirsty irrigated turf grass, with low water using plants from our Approved Plant List or by installing permeable hardscape.
*Rebate amount depends on the square footage of irrigated turf grass removed. Under no circumstance can the rebate amount exceed the total project cost, and labor costs will not be calculated in the total project cost.
Is artificial synthetic grass safe? Anyone with concerns of environmental toxins leaching from Guilford High School's synthetic turf may now have their fears allayed, as independent testing has validated the environmental safety of Kavanaugh Field. Please click to read a recent article about testing performed in laboratory and on Kavanaugh Field for synthetic grass to clear up misconceptions about health risks.
Testimonials
Mr Bradford,
Here are some pictures of my dogs enjoying your lawn. This one is Luke doing his business and the others to follow are Luke the Shepard and Conley the Labrador. Your lawn has held up nicely through the dogs and the rain.
Susan Burke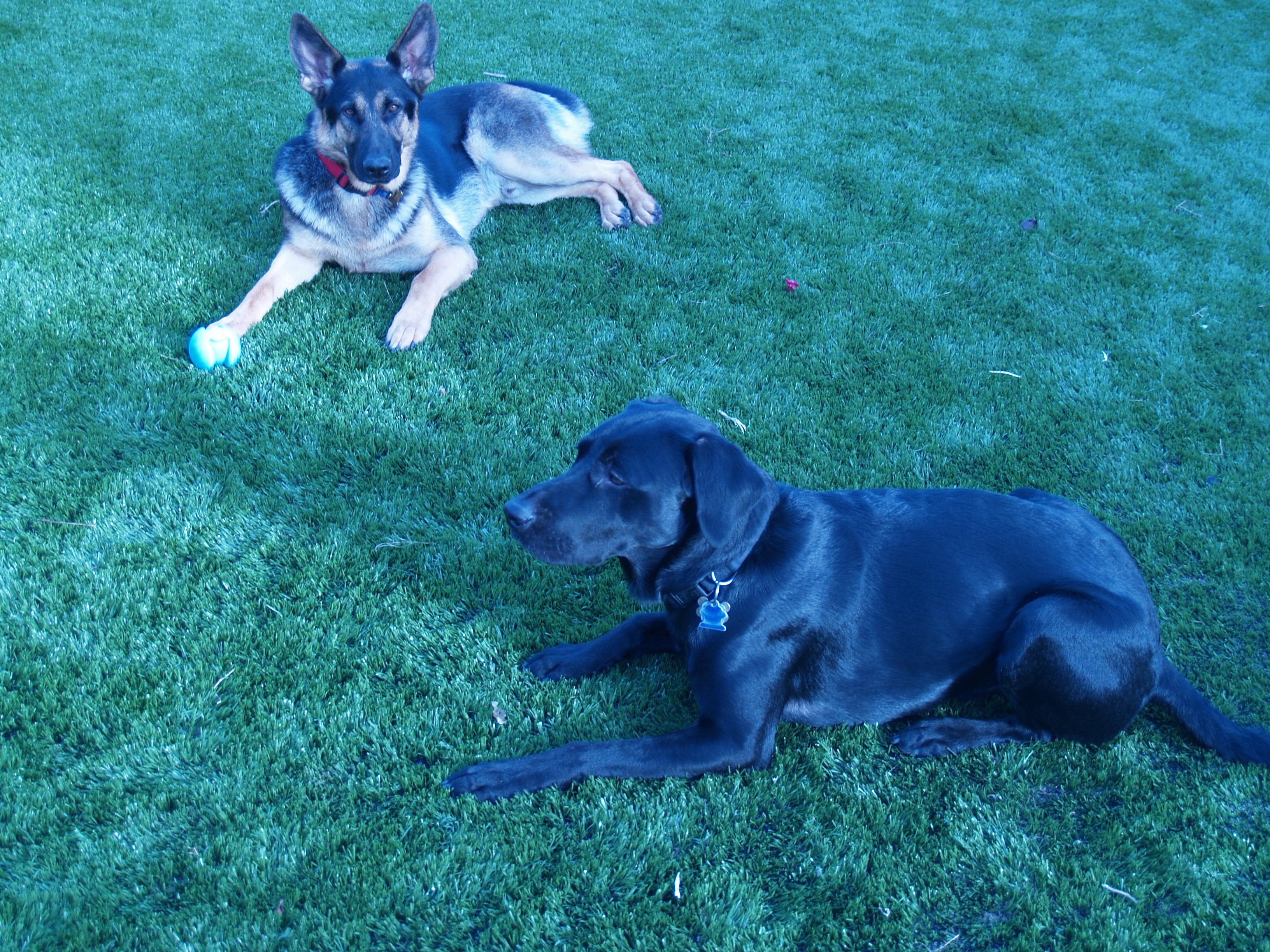 Mark,
Been showing all my coworkers at the fire station pics of my beautiful new backyard! I am going to email a friend your info. Hopefully he'll decide to go this route to. His name is Gil Smith. Thanks again for your awesome work. I'll definitely spread the word!
Katie Roberts
Mark,
First I would like to thank you and your workers for everything you have done for my family. Please extend the praise to your crew as well. You have assisted in creating a fun workable area for my entire family, extended family, and friends to enjoy for years to come. I wanted to pass on this note as a thank you. The terrain was difficult and your team managed to accommodate our every request with ease. Such a delight to worth with.
It goes without saying that we will recommend you to everyone. We greatly look forward to our future projects with you. Thank you and please feel free to use us as a reference if needed. Best Regards,
Paul
I wanted to commend you on the job performance of Juan and Uriel. From the onset of the project to its completion everything was handled in a very professional manner. The job came in under the time that was projected and budget projections. And the lawn looks spectacular. I would have no reservations about recommending Bay Area Synthetic Grass.
Thanks again.
Trebor Allen
Dear Mark,
This is a quick note to tell you how pleased my wife and I are about the installation of synthetic grass in my backyard. It looks great! My neighbors think it looks great, too.Bay Area Synthetic GrassThe installation team did a quality job and clearly is focused on the customer. With the current emphasis on water rationing, this project was a smart idea both for the short term and the long term.
Regards,
Jim Davidson
Dear Mark,
Margaret has been playing on it every day since it's been in. She loves it and we do too.
Laura Culver
Hi Mark
Thank you very much for your professional work and the timely completion of the putting green. You & your team have demonstrated excellent workmanship, close attention to details and lots of accommodations to make things right
Mark,
Thanks again for a great work. I will be happy to sign the release form for any pictures of the Green or to use my name for future reference.
Regards
Sam
Press Releases
Marin Pacific Sun - Homes, Gardens, Real Estate - Friday, July 13, 2007 It's not your grandfather's polyethylene grass-like ground covering...
Conscientious gardeners wised up 30 years ago to the fact that water is a scarce and valuable commodity. They went from drought-tolerant, Mediterranean-style landscapes to trying seriously to embrace all-out xeriscaping. Meanwhile, lawns shrank from lush expanses to 6-by-6-foot squares of green, hardly large enough to accommodate a chaise. What to do? It's hard to set out a lawn chair amid those tall, waving, natural grasses. And badminton? Forget it.
by Marty Olmstead
Related Links
Artificial and Natural Turf:. A Comparative Analysis. EXECUTIVE SUMMARY .... The most durable grass for soccer fields in San Francisco is hybrid Bermuda ...
Depending on your choice of grass, mowing may not even be necessary: no-mow. This article appeared on page HO - 2 of the San Francisco Chronicle ...
AstroTurf, the brand name synonymous with artificial grass, fell on hard times in 2004, when the company went bankrupt. Jon Pritchett is trying to bring it ...
Apr 9 - The history of artificial or fake grass is to say the least an interesting one and arose out of the social desire to in-effect ward off what could be seen, ...